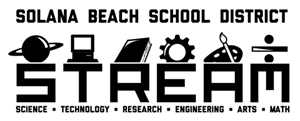 Solana Beach School District has a Teacher on Special Assignment for STREAM Integration, focusing on implementing a STREAM centered curriculum:
Stephanie Anastasopoulos
e-mail Stephanie at: sanastasopoulos@sbsd.net
What is STREAM?
STREAM is an acronym for Science, Technology, Research, Engineering, the Arts and Mathematics. It is often most commonly referred to as STEM.
The idea of emphasizing these subjects through an inquiry-based, hands-on curriculum has been driven by the goal of more closely aligning our programs with what students will experience in college and the workplace. In the real world, content knowledge is interconnected, layered and refined, which is what can be seen through our STREAM centered Discovery Labs*.
Our goal is to prepare students for an agile and competitive workforce, and is therefore centered around supporting these student outcomes:
STREAM skills are vital for success in the 21st century and incorporate the "4 C's" (collaboration, creativity, critical thinking and communication) through project-based learning and interdisciplinary (across subjects) activities. Click on the graphic below to see a short video about STREAM.
Getting Involved At Home
"
STEM does not have to be implemented just by educators
. Parents have numerous opportunities to expose their child to STEM related concepts, thus supporting the learning that takes place in the classroom." Ideastations.org
Resource links for families:
STREAM in the Classroom
Visit our site STREAM webpages to learn more about the program and how your students are experiencing STREAM:
TEACHERS:
For specific information and links to many great resources, please visit the STREAM page on
Confluence
in the Instructional Services department.
* Discovery Labs Funded by Solana Beach Schools Foundation