SBSD Celebrates Skyline School Groundbreaking...
On June 9, 2017, Solana Beach School District broke ground on the reconstruction of Skyline School. For details about the event, please visit the Del Mar Times article.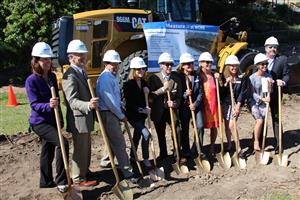 Caroline Brown, Ric Davy, Rich Leib, Vicki King, Terry Decker, Debra Schade, Holly Lewry, Julie Union, Lisa Denham, and Brian Cahill prepare to break ground at the Skyline School reconstruction ceremony.