Traffic and Safety Procedures
Morning Drop-Off
Skyline provides morning supervision on the playground from 8:35 a.m. to 8:50 a.m. The first bell rings at 8:50 a.m. and the tardy bell rings at 8:55 a.m. The front gate is unlocked at 8:15 a.m., and students may wait in the quad area by the flagpole. However, there is not supervision at this time, so we ask that students arrive to Skyline as close to 8:35 a.m. as possible. Students who arrive early to go to before school intervention programs, Student Council meetings, etc., should enter the front office to get out onto the campus. When dropping your student off at the front of the school, please use the drop-off lane next to the curb only, and pull your car to the very front of the line by the crosswalk. Students may get out along the entire curb area that is marked green. Please have your students ready to exit the car promptly to help facilitate all students getting to school in a timely manner. If your child is not ready to get out of the car, please park in a parking stall. The gate at Dell Street will be unlocked at 8:35 a.m. and relocked in the morning promptly at 8:50 a.m. Do not drop your student off on Dell Street in the morning if you are running late. Bring your student to the front of the campus. The front gate will be relocked at 8:55 a.m. for the entire school day.
Morning Drop Off Routine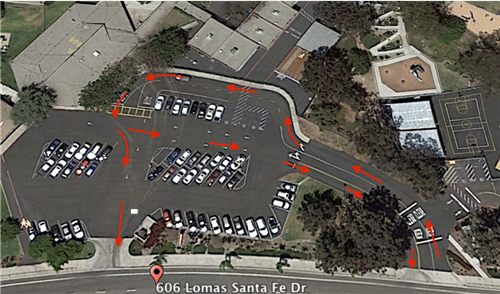 Afternoon Pick Up
School dismissal is at 3:05 p.m. It is important for parents picking up their children to be here on time. There are two pick-up lanes in the afternoon, and staff will assist students into their cars in both lanes. Students will be allowed to enter the first three cars that are next to the green curb. If a parent's car is in the second pick-up lane, students will only be allowed to get into the car when it is at the front of the line next to the crosswalk. Please do not call your children to your car. Our staff will assist them when it is the appropriate time to get into the car. If you are picking up your student in front of Skyline, we ask that you refrain from using your cell phone once the students begin getting into cars. The car line is constantly moving and it is imperative that you give your full attention as you move up to the front of the line. As your children are getting into the car, please do not
pull away from the curb until all children are in the car with their seatbelts on and all car doors are closed.
After School Pick Up Routine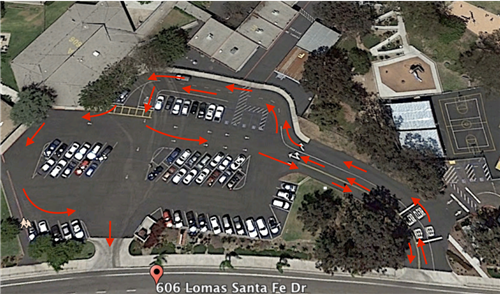 Dell Street Drop Off/Pick Up
We encourage parents to drop off and pick up their children in front of Skyline School. However, if parents choose to drop off or pick up on Dell Street, it is very important to realize that this area is a neighborhood community.
The Dell Street gate will be open for dismissal from 3:05 p.m. to 3:20 p.m.

Please be respectful of our neighbors, and make sure you do the following:
• Do not stop in the middle of the street to drop off or pick up your child. Pull to the curb.
• Do not pull into driveways to drop off or turn around.
• Do not park in front of trash cans or move cans to the sidewalk.
• Do not park in areas marked red.
• Do not park in front of or block driveways.
• Do not make U-turns in the middle of the street.
• Turn off your car engines to protect our environment.
• Do not stop your car in the middle of the road to have a conversation with another parent.
• Remind your children to stay off lawns and other landscape.
Parking
There are limited open parking slots in the upper parking lot for parents and/or guests to use. Parents are encouraged to use parking in the lower parking lot. Parents may also park along the curb from 8:55 a.m. to 3:00 p.m. However, it is imperative that all drivers return to their car before school lets out (3:05 p.m.) to ensure that student pick up can begin immediately at dismissal time.
Request for Drivers to Reduce Automobile Idling at Student Pick Up
and Drop Off
Solana Beach School District asks for your help to address health and environmental concerns created by excessive automotive idling at schools during student pick up and drop off. Please follow this recommendation for drivers: If you are in line or waiting for someone and you will be parked and sitting for 30 seconds or longer, turn off your car's engine, except for at the end of the school day once the pick-up line begins to move.
Background information from the California Energy Commission:
• Idling is linked to increased in asthma, allergies, heart and lung disease and cancer
• Idling gets ZERO miles per gallon
• Idling for 1 hour burns nearly 1 gallon of gasoline
• For every two minutes a car is idling, it uses about the same amount of fuel it takes to go about one mile
• Research indicates that the average person idles their car five to ten minutes a day
• People usually idle their cars more in the winter than in the summer
The bottom line: If you are going to be parked more than 30 seconds, turn off the engine. Even ten seconds of idling can use more fuel than turning off the engine and restarting it.
Your child's safety is our number one priority. We appreciate your patience and understanding in helping us to maintain safety for all our students.