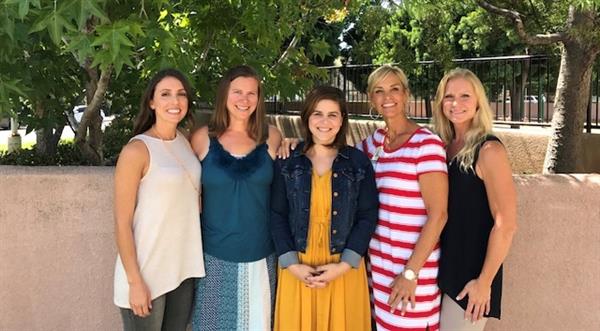 Phone:
Email:
Degrees and Certifications:
Ms. Prindle, Mrs. Karras, Mrs. Sheri, Ms. Schroff, Mrs. Stanko, Mrs. Johnson and Ms. Ayala

Arricka Ayala, Learning Specialist

I began working at Carmel Creek Elementary School in 2016 and I began working for Solana Beach School District in 2008. My credentials include a Bachelor's Degree in Psychology from the University of California, Santa Barbara, and a Multiple Subject teaching credential with an authorization to work with English Language Learners/ a Mild/Moderate teaching credential with an Autism Specialization Authorization from National University. I specialize in creating a unique learning plan for each of my students, in connection with general education teachers and specialists. I believe in a strong collaboration between the home and school site families/teams. I love your feedback. Please feel free to email me at aayala@sbsd.net.

Teri Prindle, M.S., Learning Specialist


I have been a member of this amazing Carmel Creek team since 2012. My credentials include a Master's Degree in Special Education as well as a Mild/Moderate teaching credential, and Autism Specialization Authorization. I enjoy working in collaboration with classroom teachers and service providers to best meet the individual educational needs of my students. I believe that communication is the key to a great parent-teacher relationship. I encourage you to contact me with any questions or concerns at teresaprindle@sbsd.net.

Sheridan Pearson, M.A., Learning Specialist (Moderate/Severe)

I have been working in education since 2004. I received my Bachelor's degree from Cal Poly San Luis Obispo in History in 2002 and my Master's degree in Special Education from Cal State San Marcos in 2006. I hold general education, mild/moderate special education and moderate/severe special education teaching credentials. I have a heart for kids and a nephew with special needs. At home, I have a helpful husband and two sweet children, Mitchell and Paige. I am honored to work with the dynamic students in my program. Please contact me with any questions or concerns at spearson@sbsd.net.

Karras Hacker, M.A., Learning Specialist (Moderate/Severe)

Anjali Schroff, M.A., Learning Specialist (Moderate/Severe)

Susan Papuga Johnson, Speech Language Pathologist, M.A., CCC-SLP


I have been working in education since 1986 and am the veteran of the learning specialist group here at Carmel Creek School! My two children attended Carmel Creek and I love living in the Carmel Valley community. I attended Boston College earning my bachelors degree in Education and also completed my Multiple Subject credential. I then moved to San Diego and attended SDSU earning two Masters Degrees and CA credentials in Speech Pathology/Audiology and in Educational Administration. I am excited to be a part of this dynamic team! Please feel free to contact me with questions or concerns at sjohnson@sbsd.net.

Viyan Stanko, M.S., School Psychologist

I currently share time between Carmel Creek and Solana Vista Elementary. I obtained a Bachelor's degree in Psychology and Master's degree in School Psychology. I have worked as a behavior therapist for the Center for Autism and Related Disorders and also worked as a research associate for the Children and Adolescent Services Research Center at Rady Children's Hospital. I have gained experience working on research teams that focused on early and school-based intervention for children on the autism spectrum, domestic violence and child anxiety. Please contact me at vstanko@sbsd.net.