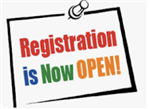 Click Here for Kindergarten & New Student registration for the 2021-22 school year. Please note that all registrations are done online - don't forget to select the correct school year from the pulldown menu. Also - if your child is attending Solana Santa Fe this school year - you do not need to register again for next year. Registration is only for Kinder and New Students starting in the 2021-22 school year.

Please click here to verify that your street address is within our boundaries and which school your child(ren) will attend.

Questions? Contact Chris Suppa at christinesuppa@sbsd.net.