6-13-17
Dear Solana Vista Families,
A few reminders:
June 16: School Assembly (8:35)
June 16: Last Day of School (Dismissal at 12:05)
A little something to think about:
I want to thank you, the Solana Vista community, for your warm welcome and support this school year. Being the principal of such a wonderful school is truly an honor. Our students are amazing! I am so proud of the progress they have made this year. The Solana Vista staff is an exemplary group of educators, dedicated to providing an education that will prepare our students for the future. Our wonderful families are committed to supporting their children in their academic and social/emotional growth. Thank you for all you do in the home setting to preparing students who are ready to learn, explore and discover.
I am excited to continue to be a part of the Solana Vista family next year and look forward to growing our school together!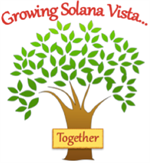 Have a wonderful summer! Don't forget to read with your child every day!
Katie Zimmer
Principal, Solana Vista School